Ahmedabad boast great temples in-outside the city. ISKCON temple ahmedabad is great attraction for locals and visitors from outside the ahmedabad.Temple is situated in satellite area of ahamdavad. It it ideal place to visit with family to enjoy evening or the weekend. Site of temple Iskon Temple is beautiful & grand . It is bit on outskirts from the main city, but it is worthy place to place to visit.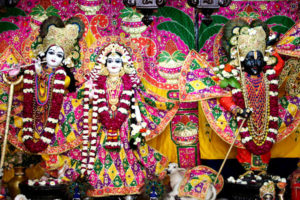 Hare Krishna Temple
The temple boast good beautiful premises with great architecture. Exterior has good serpent fountains & the interior of temple has beautiful picture of lord krishna. These pictures can be bought from the store as well.Temple has beautiful idol of Lord krishna that jewellery & dress of the idol is beautiful & worth a preview.Other beautiful idols are of Shri Radha Rani, Shri Balram & Lord Ram, Sita ji, Hanumanji. Temple is decorated with beautiful flower decorations also could be seen in the temple. Ekadashi are celebration days on which the temple is decorated.
Situated near ahmedabad city : Sarkhej
The temple is situated at the in the business hub of the city in sarkhej highway area. Sarkhej area is surrounded by malls, offices & restaurants around it. So your visit could be further extended. Most krishna bhakts visit the temple every weekend. There is a Gita pravachan as well over the weekend. You can also buy some great books on lord krishna including Gita available at the store over there.The temple offers great prasadam as well. Kichdi/Kichu ( Yummy 🙂 ) as prasad is quiet favourite amoung the temple goers. Temple premises you can even sit for meditation if you prefer.
Temple has special attraction on Janmastami celebration. It is must visit on the Janmashtami.
Here is the temple schedule to get the best time for the visit
ISKCON ahmedabad timings
| | |
| --- | --- |
| Mangala Aarti | 4:30 AM |
| Tulasi Aarti | 5:00 AM |
| Shringar Dharshan & Guru Pooja | 7:30 AM |
| Srimad Bhagavatam Class | 8:30 AM |
| Dhoop Aarti | 8:30 AM |
| Raj Bhoga Aarti | 12:00 Noon |
| Temple Closes | 12:45 PM |
| Pushpa Aarti | 4:00 PM to 4:30 PM |
| Sandhya Aarti | 6:30 PM to 7:00 PM |
| Bhagavad Gita Class | 7:30 PM |
 Temple also has guest house for tourist you check the details on this links 
…
Address ISKCON 
Satellite Road Sarkhej Ghandhinagar Highway Crossing Ahmedabad
…
Note : Temples is easily accessible with Local transport, Cabs or autos.